CHARMAINE IS AN EBULLIENT, EMOTIVE AND DEFT DIRECTOR THAT MAKES ALL-CONSUMING, INTENSE AND DISTURBING WORK; STRIPPED BACK AND STRIKINGLY IMAGINATIVE – LETTING THE THEATRE SPEAK FOR ITSELf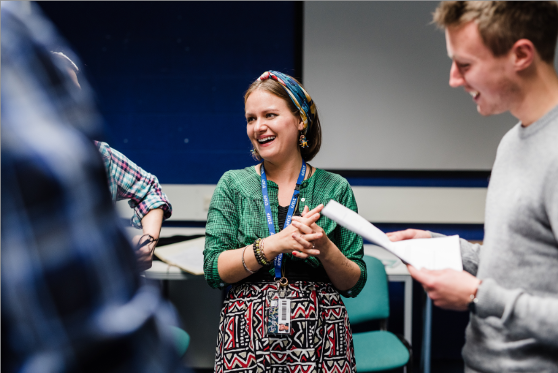 THEATRE DIRECTOR
After graduating from the Acting and Contemporary Theatre course at East 15 Acting School in 2005 I worked intensively as an actor, under my maiden and stage name Charmaine Szecowka, before going on to create my own work independently through BOK Theatre and SISATA.
In 2011, after having two children, I created BOK Theatre with the aim of using the powerful tool of theatre to benefit everyone. Through this, on a commission basis, I have written and directed many shows, which have toured schools, festivals, theatres and conferences across the South of England.
As the co-­creator and director of SISATA I produce an annual adaptation of a classic text or Shakespeare play, stripped back to four actors, which tours to various open-air locations and non-theatrical spaces, as well as theatres across the South.
I believe my understanding of the actors' process is instrumental when working as a director. My directing approach is heavily influenced from my training under the theatre practitioner and teacher Brian Astbury, with my methods being very physical, focused on finding the truth and playfulness in the text and above all supporting and trusting the actors to nurture what they bring.
As a freelance actor and director, I have worked with various other companies including Treehouse Theatre - who create theatre for schools, Dramatic Productions - who are the resident company at the Poole Lighthouse and the all-female Juno Theatre. I am now a visiting director for White Horse Theatre in Germany - the world's largest touring educational theatre company.
Dedicated to helping produce new writing in the theatre, I am also a director for Doppelganger Productions. Working closely with John Foster, I have innovatively and successfully directed many of his new plays; two of which were supported by the Arts Council England.
As a director, having worked with everyone and everything from students to old pros, new writing and classics, I believe that I bring the best out of both actors and the work presented to me. I am inherently bold and brave in my work, always seeking to gain clarity and truth.
'... her zen-like sense of calm, combined with a great passion for theatre and an intrinsic understanding of the art of acting, cause her to strike the perfect balance between collaborator, leader and teacher.' Actor/Writer Alessandro Babalola
People and theatre inspire and interest me and I believe that I understand the workings of the art form at its core – starting from the simple idea of sharing and telling stories as being a part of human survival:
'… giving people stories is not a luxury. It's actually one of the things you live and die for.' Neil Gaiman.
It is instinctual and necessary.
My work always puts the audience first, through making classic texts accessible to modern audiences or using theatre as a tool to tackle any subject through BOK, which usually requires the art form to be taken into unfamiliar spaces; anywhere from museums to libraries to parks. I have a huge passion for creating work that engages new and diverse audiences; bringing theatre to them, theatre that is about 'us' and not about 'me'.